A compassionate team united by a passion for caring for companion animals
From alligators to Weimaraners, animals are our thing. (Well, maybe not alligators, although we do think they're great in the wild.) We aim to create a safe, supportive, and caring space for you and your animal companions. Our team cares about our clients, two and four-legged furry friends, and we're trained to provide the best care and service in the business.
One of the best qualities of the Birchwood team is our honest and complete enthusiasm for our work. For us, your family is our family, and we want to be there for all of life's adventures. We'll be thrilled when a new puppy or kitten joins your family. We'll look forward to watching them grow into their paws and personality. We'll delight in hearing tales of their escapades (even when they destroy your best shoes). We'll be there to help them through their checkups and the tough times when they're not feeling so well. And when it's finally their time to go, we'll hold them close and comfort them and the family that loved them so very much. We'll love every minute of the joy and heartbreak of your journey because this is who we are.
At Birchwood, every family and every pet is wonderfully unique, and it's our pleasure to be your chosen care provider.
So, let's introduce you to the Birchwood team…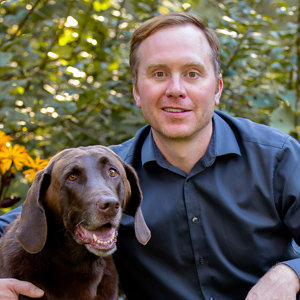 Dr. BEN BAUMAN
Veterinarian
Dr. Ben Bauman, DVM, was born and raised in Prince George. He completed his undergraduate degree at UVIC and his Doctorate in Veterinary Medicine at the Western College of Veterinary Medicine in Saskatoon. After starting his career in Edmonton, Ben moved home to Prince George and practiced here for 4 years before he started working as a locum vet throughout Northern BC. This wide experience in different communities and clinical settings has informed his approach to veterinary medicine and clinical practice.
---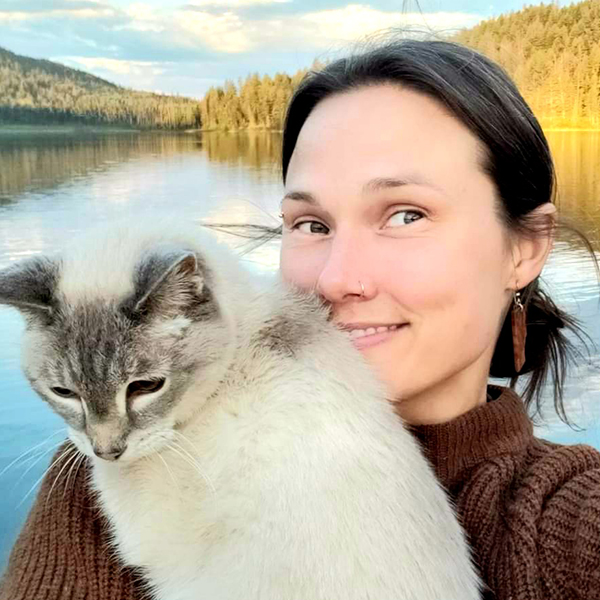 Dr. LAUREN BEAULIEU
Locum Veterinarian
Dr. Lauren Beaulieu (BSc, DVM) grew up in St. Paul, AB, is a UVic and WCVM graduate, and a transplant to BC as of 2017. She started her career in Williams Lake as a mixed animal vet and now owns her own business as a locum working throughout BC!
Williams Lake is home for Lauren and her Loves are Scott (life partner, adventure-buddy, and best friend), Nyx (black DSH cat), and Skye (border collie/aussie shepherd). Beloved Sir Mogget (as seen in photo!) passed away in December of 2021 after his retirement in Lauren's care.
Inspiration to follow this challenging path came from the power of the human-animal bond, which Lauren believes provides a sacred space for love, acceptance, and magic in life. She hopes that, through her work, she can promote the flourishing of this bond for as many humans and creatures as possible. Her favourite aspects of small animal veterinary medicine are surgery, quality of life management, and the endless learning to be had. Being a vet provides Dr. Beaulieu with great meaning, satisfaction, and a drive to try to be a better practitioner and person every day.
---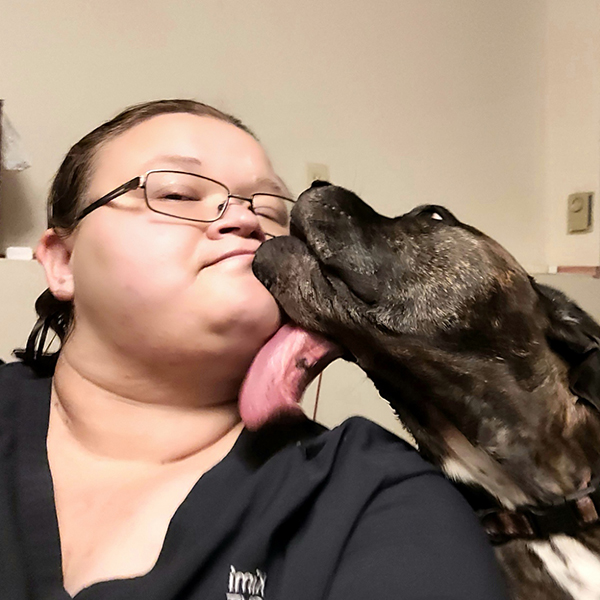 KIMI
Registered Veterinary Technician
Kimi was born and raised here in Prince George. She started her career in Veterinary Medicine by volunteering at the age of 16 at a local clinic until she went to school at Fairview College, Alberta, in 2003. After graduation, Kimi worked at a variety of large and small clinics around BC, and has spent the last 9 years at the SPCA Spay and Neuter clinic. We are thankful for the extensive skill set and knowledge base Kimi's experience has given her. Kimi enjoys all aspects of being a technician, and is looking forward to being able to learn more and implement laser therapy with us. At home, Kimi has a small zoo including, 5 dogs (2 french bulldogs, 2 boxers, and a husky/lab mix), 4 cats (two of which are bottle babies that she raised herself), and 26 miniature horses (and counting!). Outside of work, Kimi enjoys driving her horses, reading, watching movies, and spending time with her animals, friends and family.
---
ALLY
Registered Veterinary Technician
Ally was born and raised in Kitimat, BC and attended Fairview's Animal Health Technology program right out of high school. She has been practicing across BC and Alberta for 8 years in a variety of clinics including emergency and specialty. Ally's passions include implementing Fear Free visits, behavior, and enrichment. Outside of work, Ally teaches obedience, tricks, and puppy classes and volunteers with the local animal rescues. Ally has many pets including Zara – her favorite 11 year old mutt, Crash – a Vizsla with dwarfism, Opal – a one-eyed cat, two bunnies Olga and Baldur, and many more.
---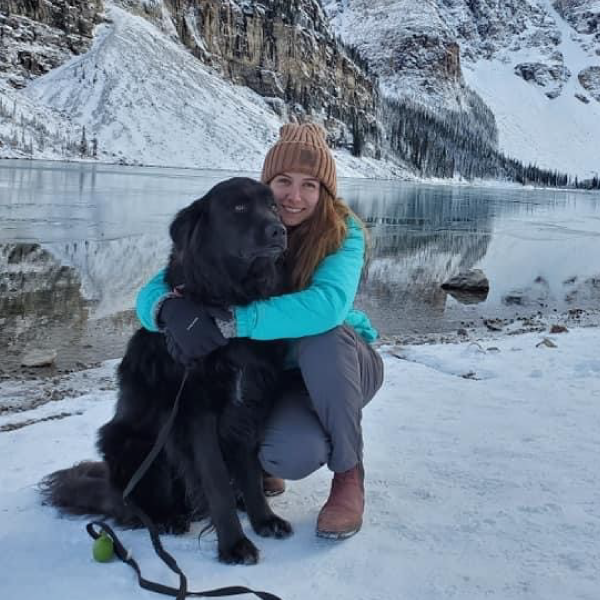 McKAYLA
Assistant Office Manager
McKayla is one of our Assistant Office Manager who was born and raised in Prince George. Her love for animals and her concern for their wellbeing has led her to become certified in many areas including; "Training Between the Ears", "Beyond Obedience", and "CanadaWest Canine Center – Master Trainer". She has taken multiple online courses through Leerburg. McKayla has experience working at a variety of different animal kennels, daycare and boarding facilities, off-leash pet facilities, and as a dog trainer. She really enjoys puppy training, helping nervous and anxious dogs, and canine health and nutrition. These interests, and the need for a career change have led her down the path of Veterinary Medicine and thankfully to us! McKayla has 3 dogs (Lincoln – a bratty but lovable puggle, Wren – an angel of a Cavalier King Charles Spaniel, and Mugs – a gentle giant of a Pyrenees/Rottweiler/GSD) and 2 cats (Indie and Teeves).
When McKayla is not working with animals she enjoys exploring new hobbies, learning how to decrease her carbon footprint while being more sustainable and enjoying the outdoors with her pets.
---
HANNAH
Receptionist
Hannah was born and raised in Prince George, BC. She has always held a huge place in her heart for animals of all breeds, shapes and sizes. Hannah knew her career would eventually end up in veterinary medicine but as an indecisive person she of course had to try out a few different options first. After 10 years of trialing a wide range of careers, she has left her most recent endeavor working with BC Wildfire Service to follow her true passion. She is currently enrolled at Thompson River University working towards some form of a degree in animal science. Hannah is excited to learn, grow and excel with her new Birchwood team. In her spare time she enjoys travelling, spending time with her fiancé, her family and last but not least her Maltese Toy Poodle named Jake.
---
SAMANTHA
Receptionist (current enrolled in school to become an RVT)
Sam was born in Edmonton Alberta, but spent most of her childhood in Prince George; she is one of our team members that you will see all around the clinic! You'll see her smiling face in reception, in our recovery suite caring for our surgical patients, and in the treatment area assisting our technicians and doctors! Sam has always had a love for animals starting when she was young spending her childhood with her best friend helping wild birds and learning as much as she could about animals. That passion has grown into her wanting to help people care for their animals to enhance the human-animal bond and to one day work alongside her best friend who is becoming a veterinarian. She currently volunteers at the Spruce Ridge Pony Club, is Fear Free Certified and has worked at Veterinary Clinics for a number of years, lending her valuable experience. Sam is excited to grow with us and was recently accepted into the Veterinary Technology Program at Thompson Rivers University in Kamloops BC (but she'll be back!). Outside of work, she enjoys her time mountain biking, kayaking, camping, boxing and painting!
---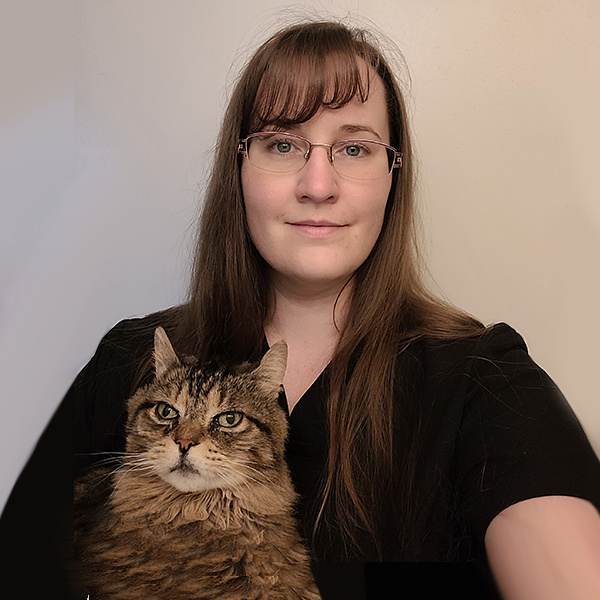 SHEENA
Sales & Inventory Specialist
Sheena has been with Birchwood Veterinary Clinic as one of our ward staff since February 2022. While only with us a short time she has been in the veterinary industry for the last 16 years.
She grew up with a house full of pets and has always had a deep love for animals. She has a soft spot for the misfit kitties and has rescued a small menagerie over the years. She is rarely without her cerebellar cat Beaker, or as she is frequently referred her P.I.C (partner in crime). Outside of work, Sheena has a wonderful husband who shares her love of cats, she is an avid gamer, a voracious reader and loves getting out for kayaking and hikes with her sweet puppy Ellie.
---
LINDSAY
Vet/Animal Assistant
Lindsay was born and raised in Prince George. She began in veterinary medicine as a volunteer at the age of 15 and has grown up in the industry. While Lindsay holds a Bachelor of Arts and Master of Arts in very different field, her first love has always been animals. For over 10 years, Lindsay has helped handle and care for every creature from cats to snakes to geese! Lindsay loves hands on learning and is not afraid to step in where she is needed. At home, Lindsay has a modest fur-family that consists of a sassy tortoiseshell cat named Ophelia and a sweet Russian Wolfhound named Pippin. Outside of work Lindsay loves to travel, read, watch movies, and, most importantly, nap.
---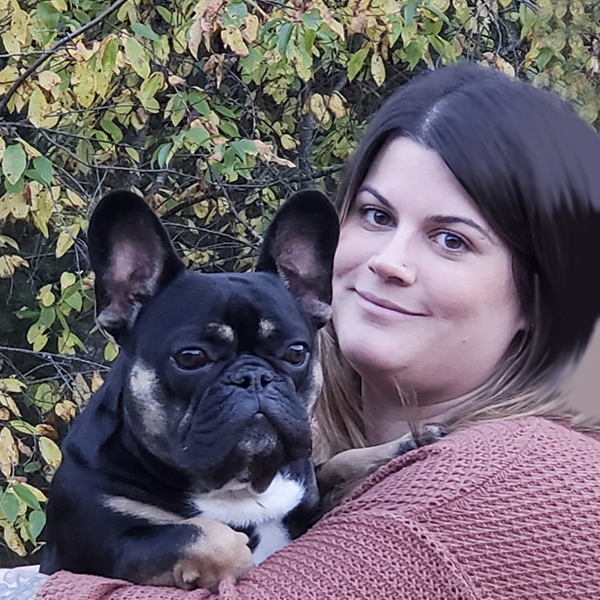 AMY
Kennel Manager
Amy has always had a love for animals, especially with special needs. She attended CNC, and worked as a Dental Assistant prior to pursuing a career in Animal Health. For the past 8 years she has worked in various areas of a local animal hospital and has worked as an Animal Assistant, Receptionist and most recently a Pharmacy tech. She enjoys learning and practices a fear free approach to medicine. Amy owns 4 dogs all with special medical needs.
---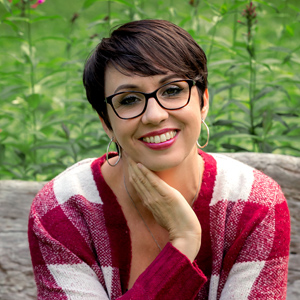 MEL
Practice Manager
Mel (BA, BEd), Practice Manager, was born and raised in Prince George. Trained as a teacher, she has also been active in the community supporting her passions of French and dance. Mel's goal for the clinic is to ensure clients feel welcome and their individual needs are cared for.